What is Looking Glass
A Looking Glass lets you see different aspects of a server in order to gauge its speed or performance. A simple looking glass will enable you to run certain command not limited to ping the ip of the server, downloads file from the server and trace the route. All these features let you see how fast server response will be in respect to your location.
All of these commands can be performed manually after obtaining the ip of the server but most of the hosting companies are now installing tools on their server to enable users to quickly check out the network speed of the server. The access to these tools are provided through web based script mostly PHP. The user can then run network commands on the VPS/server and see how it will perform if they are actually going to buy one. So basically they are using a looking glass to magnify the specs of the server in order for them to better see what they are going to buy.
Looking Glass for Host Mayo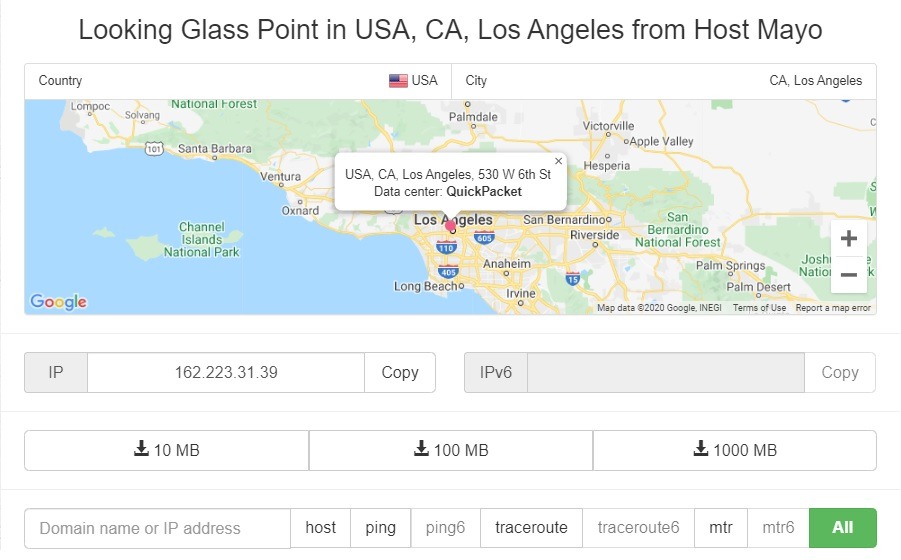 Host Mayo also provides looking glass for their VPS plans. The basic commands that can be run using the looking glass page on Host Mayo are as follow:
host – Provide you with the details of the host/domain you put in.
mtr – My traceroute is a network diagnostic tool with combination of traceroute and ping programs.
ping – A simple command to send packets to the server and check how much times it takes to send it
traceroute – Traces the traffic route of network from the host ip to the server ip.
Looking by Looking.House
The Looking Glass for Host Mayo is being maintained by LOOKING.HOUSE who has supporting the looking glass for more than 100 hosting companies.
Host Mayo has also been listed among the hall of fame
Page for Company: https://looking.house/company.php?id=131
Page for Point – https://looking.house/point.php?id=265
VPS by Host Mayo
You can get OpenVZ VPS or KVM based VPS from Host Mayo using 20% lifetime discount using coupon "lifetime". All of the VPS are based on the node for which looking glass has been provided as an example in this article.
Checkout Host Mayo's Looking Glass here.